Making money on the internet, having the internet actually send me a cheque in the mail, and depositing that first cheque into my bank account seemed like a dream to me when I first started my blog a couple of years ago.
I am a full-time dental hygienist, and I am SO passionate about my career and the patients that I see daily. So many times I had patients telling me that they wish someone had told them the information I had given them sooner, or how come this knowledge isn't widely available.
That is what drove me to start blogging, to help people on the internet find honest and trustworthy dental information that will truly help them. If I only reached ONE person and I helped them, I would be happy.
So from there, my website creation began.
I started researching and trying to drink in as much information as I possibly could.
I was lost in an ocean full of information about online marketing and starting an online business. I had no idea where to start, what to do, or how I was going to weed out all of the bad information from the good.
I finally started on my path, and just kept going, of course with some minor setbacks here and there and some VERY steep learning curves.
Fast-forward to getting accepted into Ezoic a year later, I had learned a lot, but I was still very much a newbie to the online space.
My Ezoic Journey: Started from the bottom now I'm here
Here is my Ezoic journey and how they have helped me evolve into the professional website content creator that I am today!
Like I mentioned earlier, when I first stuck my foot into the internet website space, I knew absolutely nothing. Finding trustworthy information was difficult.
As I continued to create content and my monthly pageviews slowly started to rise, I kept searching for more ways to improve.
I was introduced to Ezoic, and after doing my research, I got the impression that they were a trustworthy and honest company, just trying to be transparent and help content creators increase not only their monetization but how to reach more people by creating good content.
After being accepted into Ezoic, they have been there every step of the way with me. My onboarding was fantastic, and everything I have ever needed help with they have been there. From creating ad placeholders to offering webinars where I can level up my learning, I would say they are single handily one of the top reasons why I have achieved the success I have thus far.
Seeing ways that I can change and level up has increased my earnings and also has motivated me to keep on creating good, helpful content.
Seeing my little wins displayed front and center for me when I logged in to the Ezoic platform made me feel amazing and I started to see my earnings tick up by the cents and soon dollars. They made me feel like I really could be a successful internet creator.
Ezoic's platform is extremely easy to use, and for a beginner like me, made a complicated subject much easier to understand and navigate. The navigation bar as you can see in the picture below is concise, and simple to use, and I can see my current level on the far right side.
When I click on the Level 1 icon, it brings me to my levelling up dashboard where I can see all the badges I have earned and what badges I am working towards earning. These are small wins and make me feel confident that I am moving in the right direction with my website and content.
I feel like I am being rewarded for all the hard work I have put in. I am SO close to levelling up to level 2.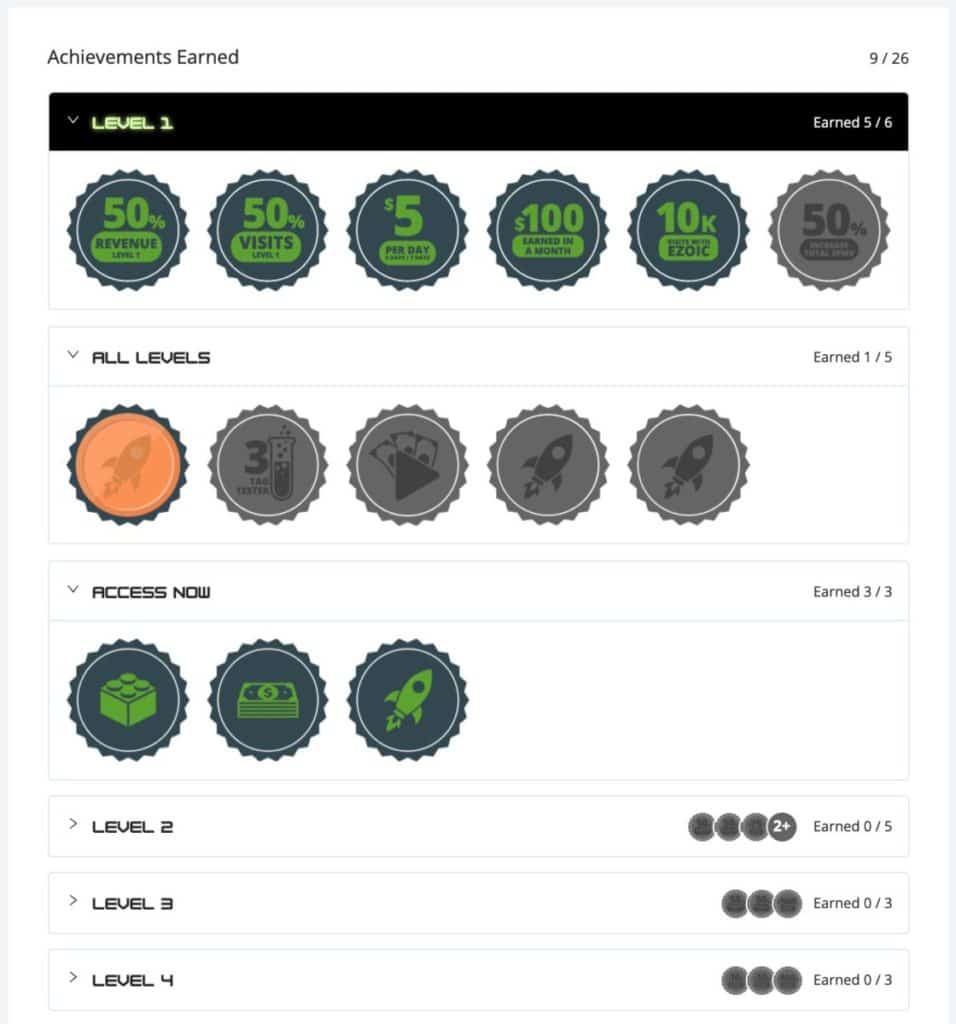 With Ezoic's motivational ways, I have stayed consistent with my content creation, and over time I have really started to see even bigger wins. Below is my journey from when I first got accepted into Ezoic's platform on October 11th, 2020, up until November 3rd, 2021. I have earned $794.30 USD within that time frame, something I never thought I would achieve.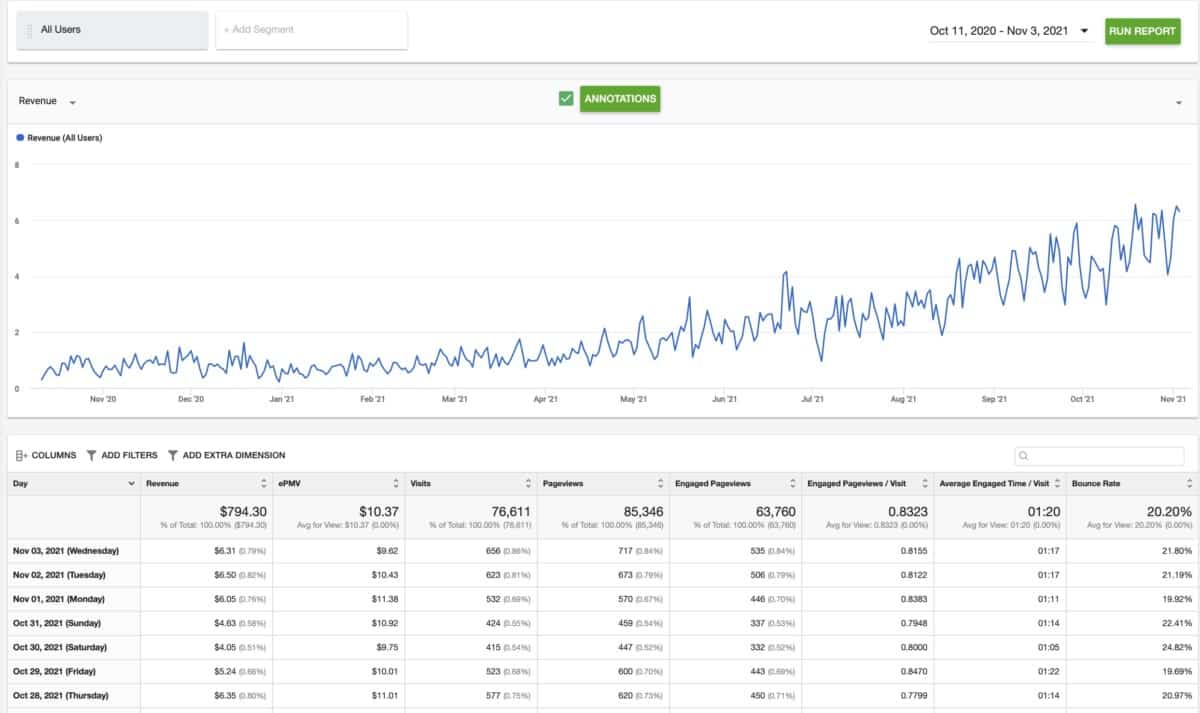 Below is my complete journey on Google Analytics up until November 3rd, 2021. Up and to the right I go!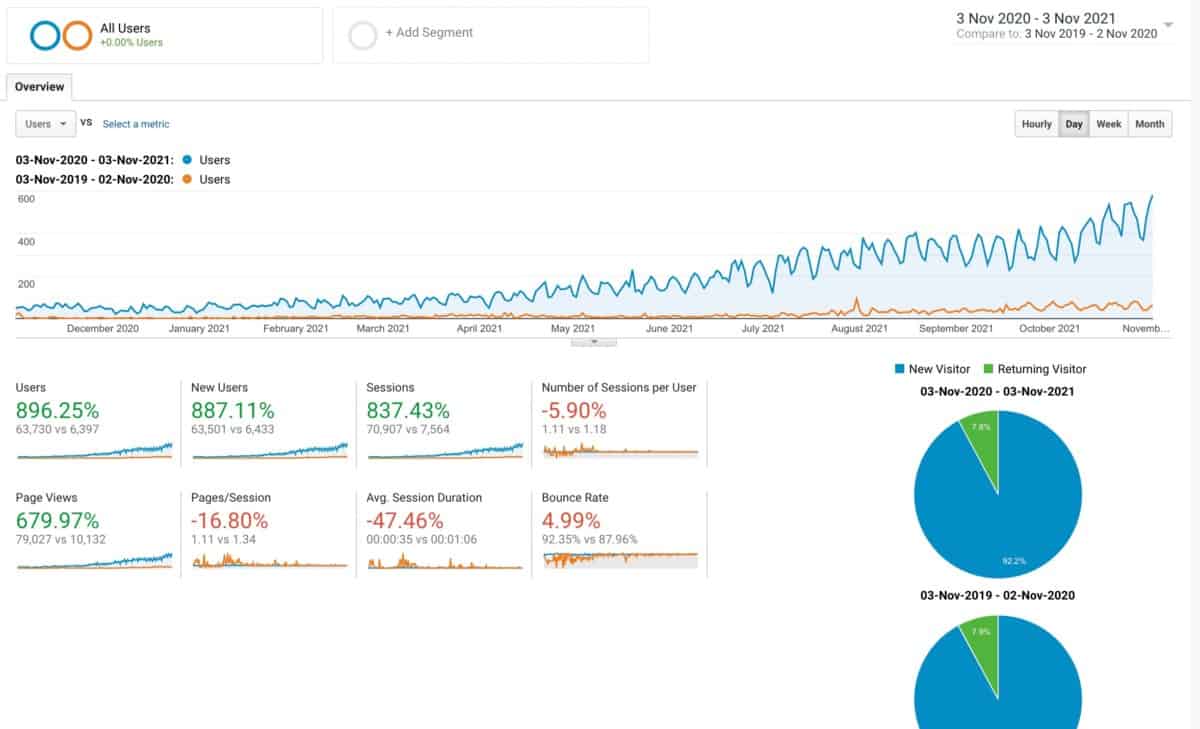 This is still just the beginning of my online business journey, and I can't wait to see where I am at in one year, two years, and 10 years! I plan to continue to produce good, helpful content and eventually expand my online website portfolio!
If you are interested in joining Ezoic, here is my affiliate link

. I am giving you this link because I TRULY believe that Ezoic can help you level up your knowledge, income, and help motivate you to keep up with content creation. The amount that they have helped me is priceless, especially for a newbie like I was!
My advice to anyone who is looking to try something new, be it a new sport, or a new career path, is to imagine if you started today, where you will be in 1, 2 and 10 years if you stayed consistent. Set yourself attainable goals, and go get them!
Have a great day and remember to keep smiling,
Holly 🙂