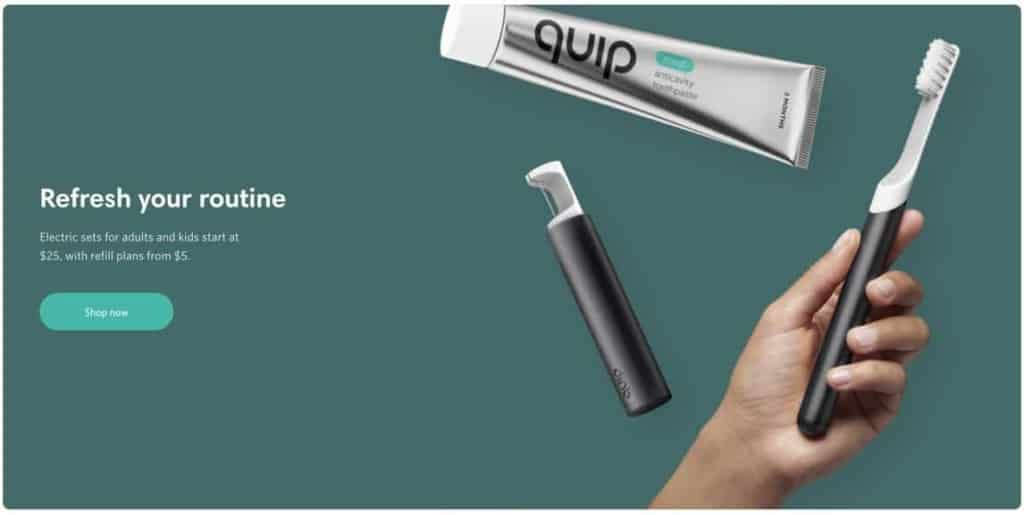 When I travel I only bring a carry-on… trust me I don't know how I do this either! But with that in mind, I really do have to think about how much space I have and cut down on things that I pack.
The highest priority for me when travelling is to keep up with my oral health routine.
I personally use the Oral B Genius electric toothbrush (no I'm not sponsored to say this). But I do find it bulky and tedious to pack, especially because I have to pack the charging cable. 
Because I brush my teeth 2-3 times a day and my brushing time is over 2 minutes the battery of my Oral B Genius doesn't last for the full 2 weeks that it advertises for (because I am using it more). 
I was on the hunt for a toothbrush that packs a little more punch than a regular manual toothbrush.
I came across the Quip toothbrush

(Amazon link) online and I can say that their marketing is very well done… because 20 minutes later one was in my cart and I was checking out.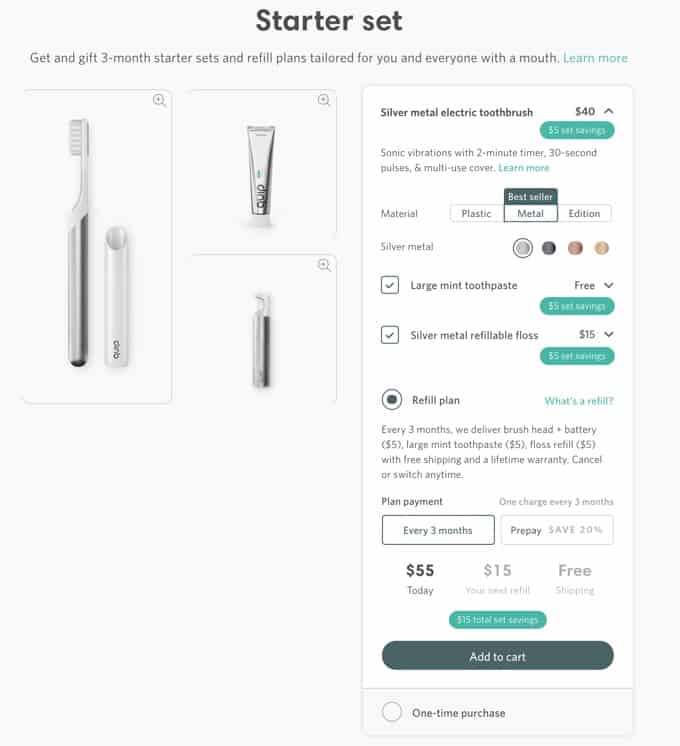 The first impression I got from their website was – clean, concise and informative. They know their target – me (a health-conscious millennial looking to simplify life with the latest gadget).
With life getting busy and getting in the way we can forget some of the most simple things; like changing your toothbrush head every 3 months. 
Quip makes it easy by automatically shipping a brush head refill to your front door on the three-month mark. I really like this feature because it's not an email reminder, it is a physical reminder that shows up in your mailbox!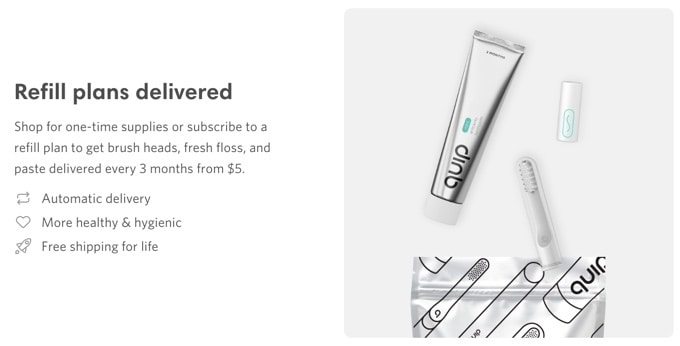 Their website is easy to navigate, and the brush was very easy to order with many different colour options.
Once I ordered my Quip toothbrush it took about a week to come (I live in Canada and Quip is from the United States so I think it took a little longer to be delivered). If you live in the United States it will get to you faster.  
The Quip toothbrush kit came in a nice durable branded pouch and it didn't take long for me to open it up and see all the goodies inside. 
The package included;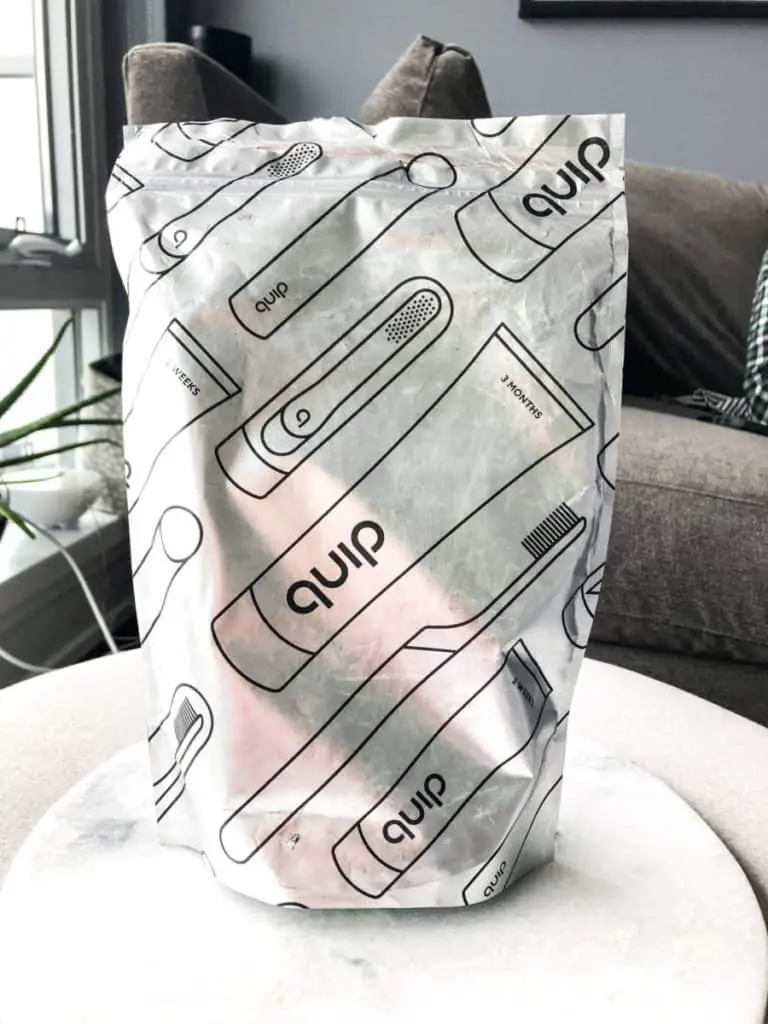 The toothbrush and plastic cover (encased in a plastic holder – do not throw this out, it's a great case for the brush when you are travelling or just want to keep it in your bag)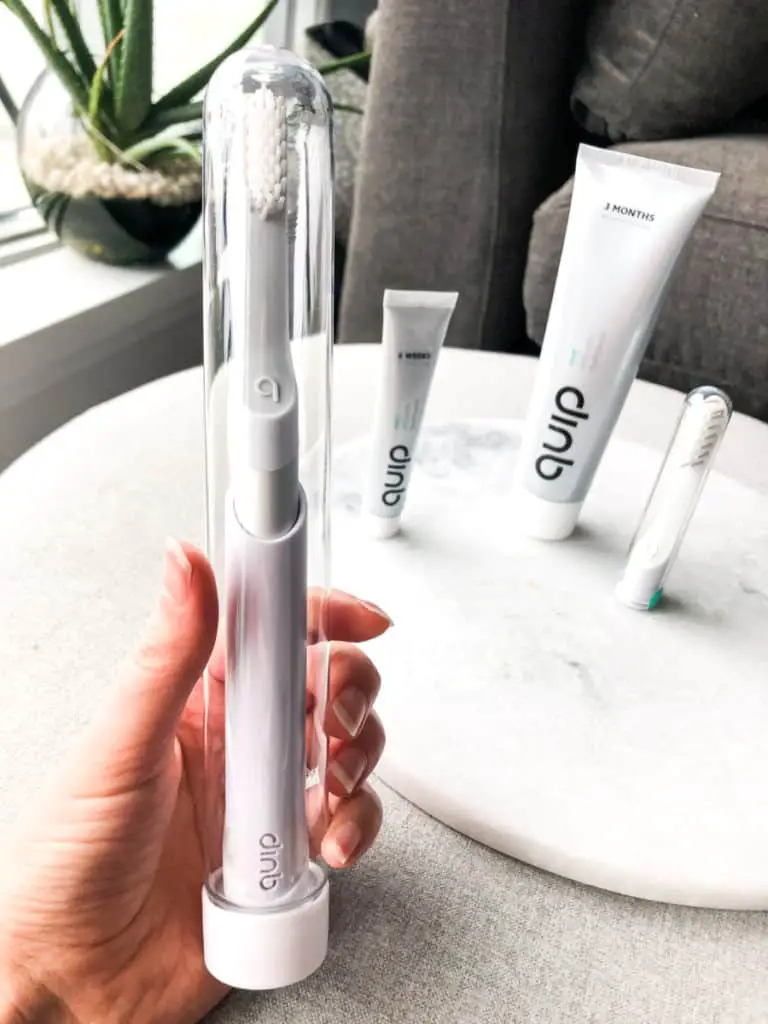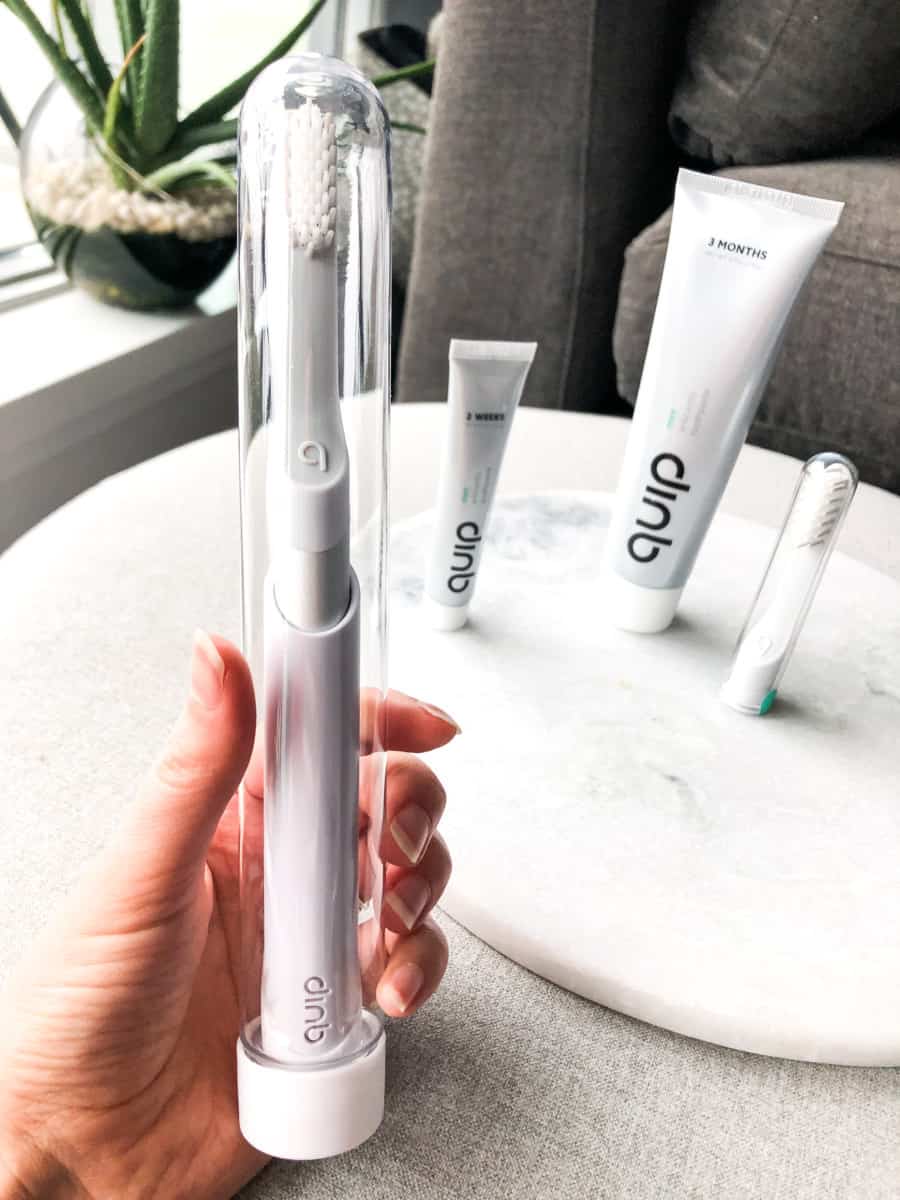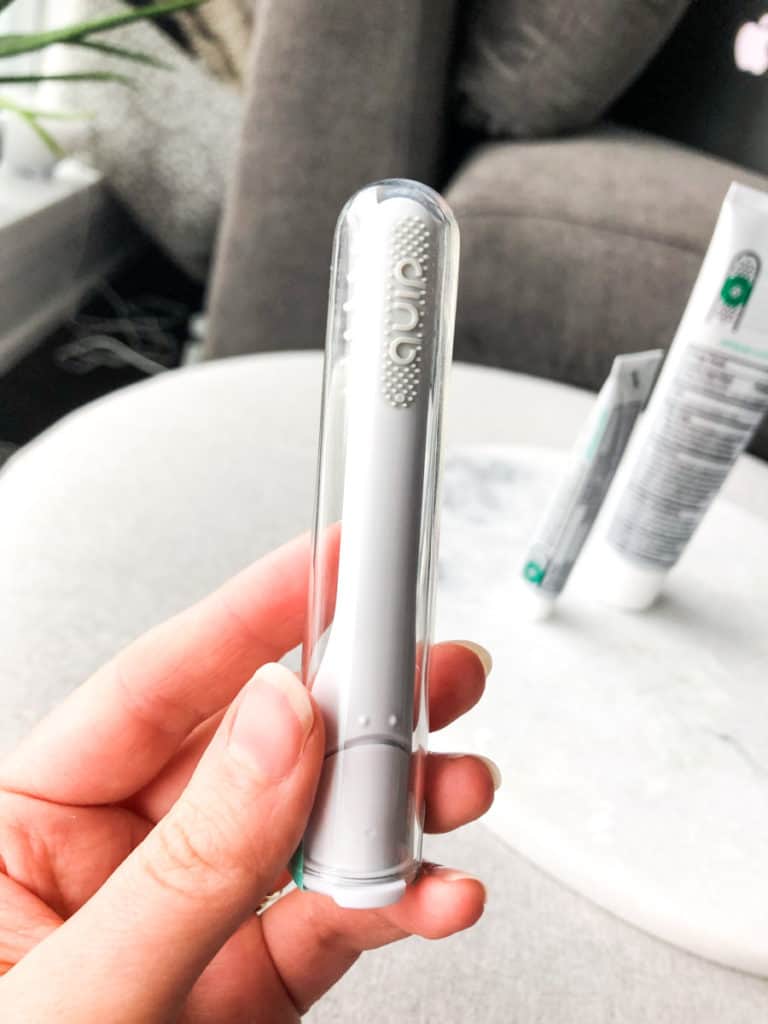 2 tubes of mint anticavity toothpaste (One 3 month 4.7 oz and one 2 weeks 0.85 oz supply)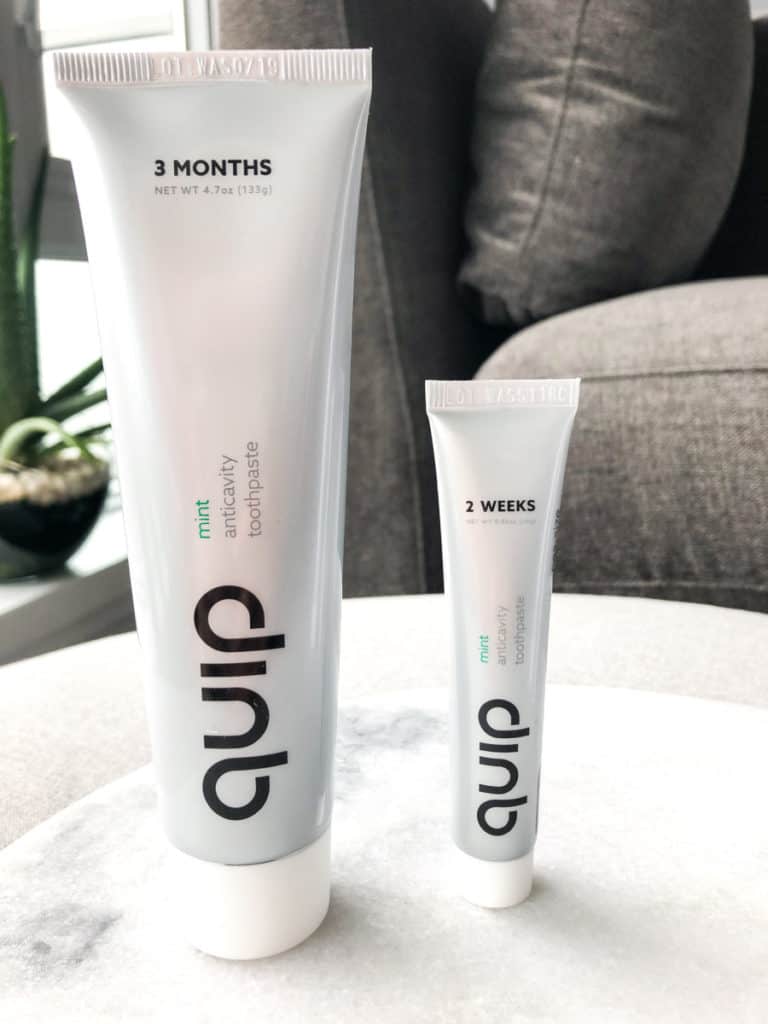 Pamphlet of oral health guides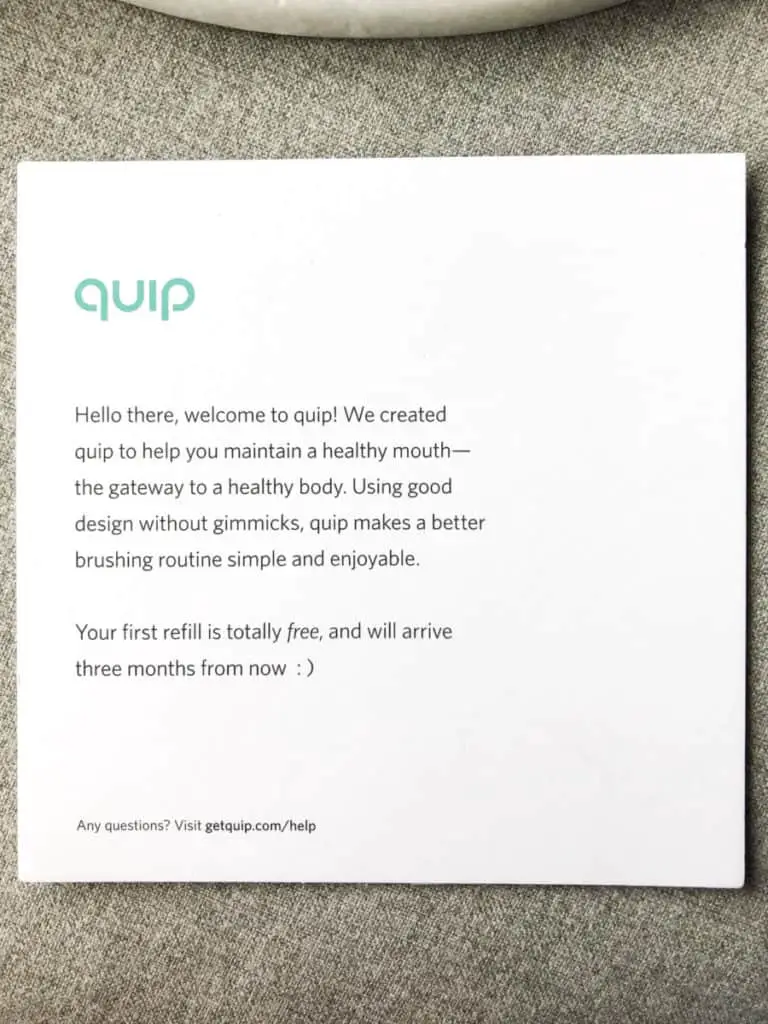 I really like how this brand isn't just about their toothbrush but also about promoting great oral hygiene and motivation for the average user. Access to care is so important in the oral health industry as the mouth is connected to the whole body. 
The pamphlet states it is here to help, going over some basic oral health tips such as brushing and flossing and emphasizing the importance of regular dental appointments. 
Let's Try!
Toothpaste
It tastes fine, nothing special but not bad. I can sometimes get sensitive teeth so I like to use a toothpaste that has potassium nitrate in it to desensitize the nerves of my teeth.
I like the concept of including the toothpaste with the refill but I appreciate that you can opt-out of it.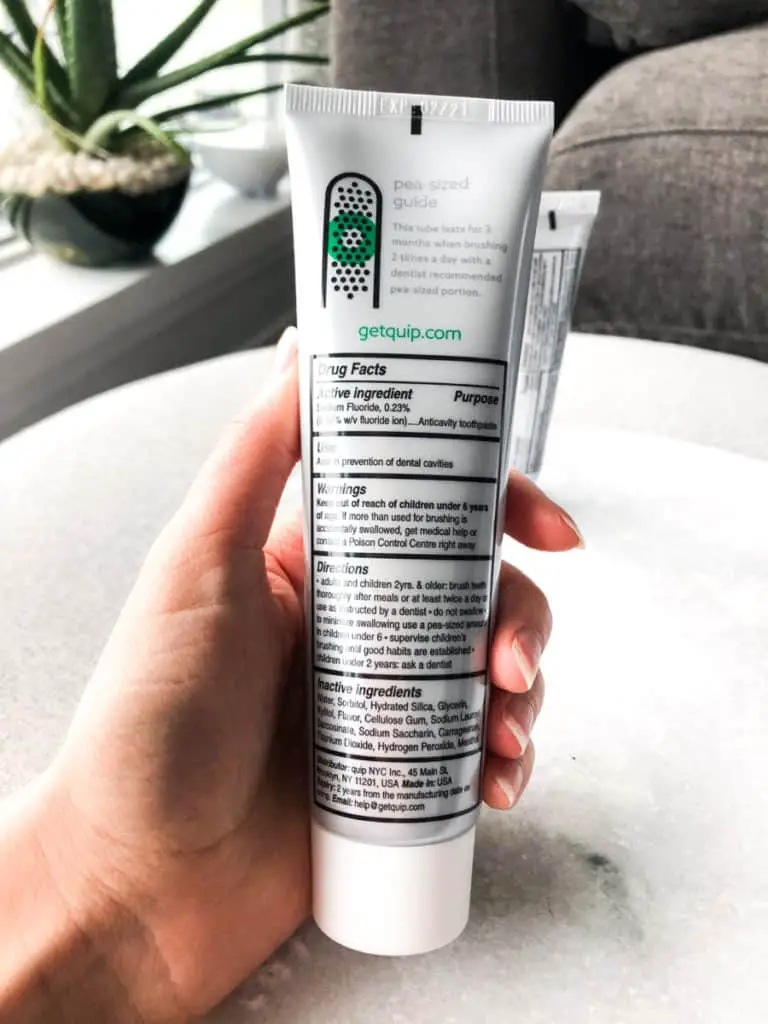 The ingredients in this toothpaste make me very happy. It contains fluoride to remineralize the tooth and xylitol – a cavity-fighting sugar.
It doesn't include sodium lauryl sulphate (SLS) a preservative that is added to a lot of kinds of toothpaste to give it a foamy texture in the mouth.
Some people can be allergic to SLS and it can cause sloughing (peeling) of the tissue in the mouth, and delay healing of ulcers in the mouth. There is no concrete evidence that supports that SLS is dangerous at the levels in the toothpaste.
However, I respect people's decisions to not have this in their toothpaste.
Toothbrush
I really love the aesthetics of the brush. It is such a sleek design and its very straightforward to use. 
The Quip toothbrush definitely DOES NOT replace a high-end electric toothbrush. The quip brush is actually closer to a manual toothbrush than an electric toothbrush.
I stand by my Oral B Genius toothbrush and wouldn't replace it with the Quip. However, the Quip is my go-to travel brush and "on the go" brush. I love the case, it's easy to clean and small enough that it won't take up all the room in my purse. 
Again, I wouldn't classify this as an electric toothbrush – it's just not as powerful as I would want or expected. 
This toothbrush is great for people who prefer to physically brush their teeth with a manual toothbrush. With an electric toothbrush such as a Sonicare or oral-b, the brush does the work for you, allowing for the user to put in minimal effort. 
It is the opposite of the Quip. 
Treat it as a regular manual toothbrush – and yes you will get more benefits from it than a normal manual toothbrush.
The great thing about the quip is the 2-minute timer with 30-second intervals that indicate you need to move to the next quadrant in your mouth.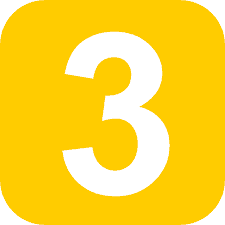 Most people think they brush for two minutes but in reality, it can be as little as 40 – 60 seconds. Another positive about the toothbrush is the 3-month refills. People can go months over that 3-month mark before changing their brush and I am most definitely guilty of this at times. The oral-b brush I have now has an app that reminds me of when to change it so I'm not as bad as I used to be. 
Overall it is a great product – with even better marketing and support to back them up – including the American Dental Association. 
Also, the battery life is fantastic – a solid 3-month use from one battery. No charging, no bulky charging platform on your bathroom counter space.
The holder the brush comes with even sticks to a flat surface in your bathroom, you can see it in the picture below.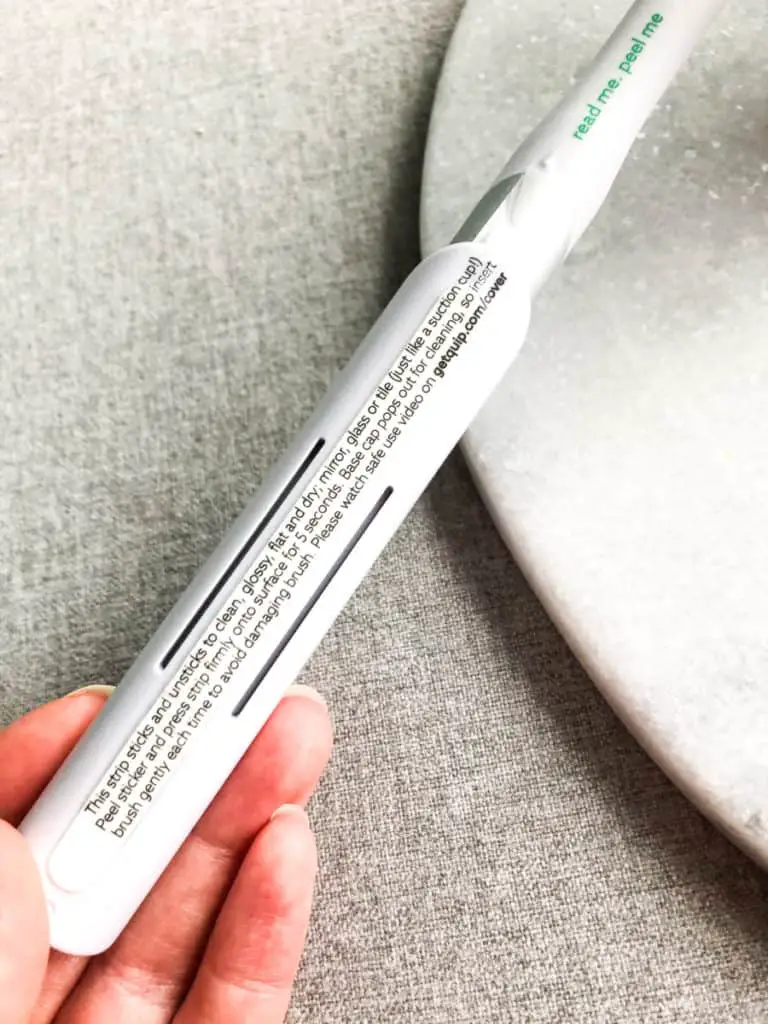 I live in an apartment and the bathroom is cramped, so space-saving is one of my top priorities. This toothbrush assimilates well into my minimalistic lifestyle. 
How to use
When using the Quip toothbrush you need to angle it at a 45-degree angle at the gumline. So on the top teeth, you will be angling up, and the bottom teeth down.
From there you will want to gently jiggle the toothbrush back and forth for a few seconds on each tooth and then sweep towards the biting surface. This loosens the bacteria and food debris from under and around the gums and sweeps it away.
Be gentle, for optimal brushing pressure you only want to use 2-3 fingers on the brush. If you use your whole hand it can be easy to press too hard.
Again, this is why I love my Oral-B Genius because it has a pressure sensor and will flash red and will lower the power of the brush when you push too hard.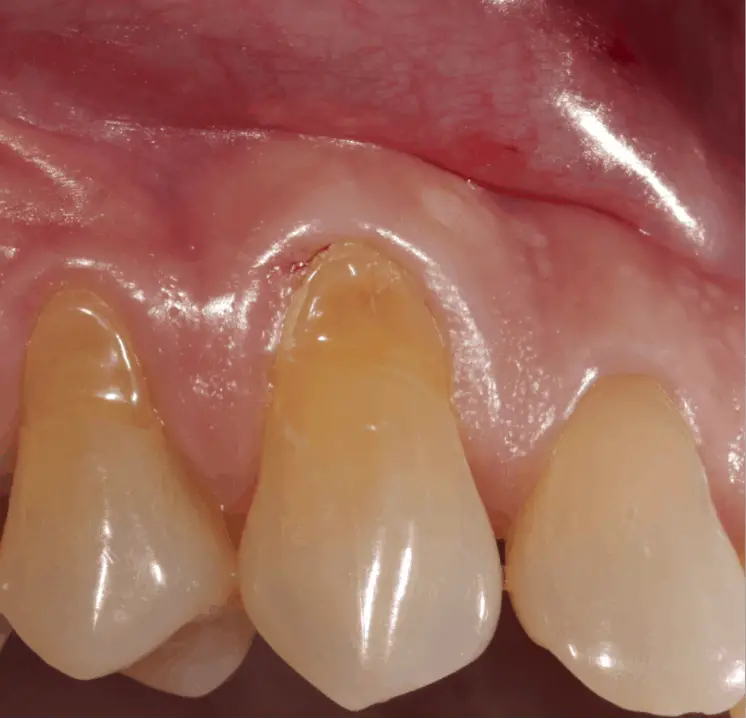 Please do not scrub your teeth too hard with this toothbrush. Because the brush is moving, if you add in too much motion you can start to wear away the gum and tooth tissues.
This is call toothbrush abrasion. Over time it can weaken the tooth, and make the tooth more susceptible to a cavity. 
The reasons why this toothbrush gets 4/5 stars are;
It's not as effective as an Oral B or Sonicare electric toothbrush as it could be more powerful
No pressure sensor
Can be a little difficult to replace the battery, you need the right angle and amount of strength
Happy Brushing

Holly