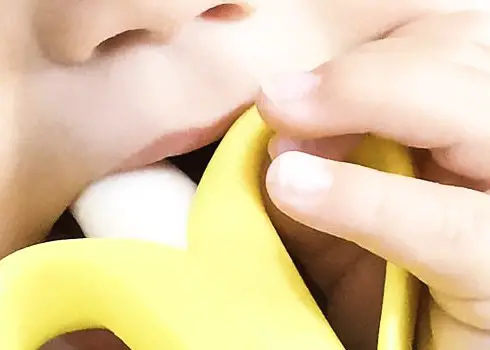 Your baby/infant's oral care is so important.
Starting dental routines at a very young age sets the foundation for oral care for the rest of their life.
Below are the resources I recommend to parents to be, new parents, and anyone who asks!
Teeth and gum wipes
I always recommend my patients who have young infants to take a soft washcloth and wipe inside their baby's mouth after they feed.
But after I discovered that there are some wipes that can actually prevent cavities with xylitol there was no going back!
The xylitol helps prevent cavities on those little itty-bitty teeth (as soon as a tooth breaks through the gum tissue it is susceptible to decay!).
I recommend these types of wipes to all expectant mothers and those with young infants.
Pro Tip: refrigerate them for 30 minutes before use to give a soothing effect on teething babies!
Teethers
When babies start to teeth it can be quite painful. Pressure from biting down on a teether can be very soothing to their sore gums. Not only do teethers help teething symptoms, but they also stimulate saliva and can help clear the bacteria on erupting teeth.
I also recommended the teether and pacifier wipes which are made of food-grade ingredients, are all-natural and non-toxic.
Pro Tip: You don't want to lick the pacifier and give it to your child. This can transfer harmful bacteria and viruses from you to the child for example herpes simplex 1, which causes cold sores and the bacteria that cause tooth decay.
Tooth decay is caused by a family of bacteria called streptococcus mutans. We are not born with this bacteria, and it is usually passed from mother/father to baby.
Food teethers
Instead of putting food in the teethers, you can put an ice cube in it to help soothe your baby's gums, plus a little hydration. Or if you want to use it with food, you can always put frozen fruit and vegetable in it!
Teething Mitts
Teething mittens are amazing! They prevent your child from cutting themselves with their nails, but also they have access to them at all times. Some teethers can be dropped and hard to keep a hold of especially when your baby is younger.