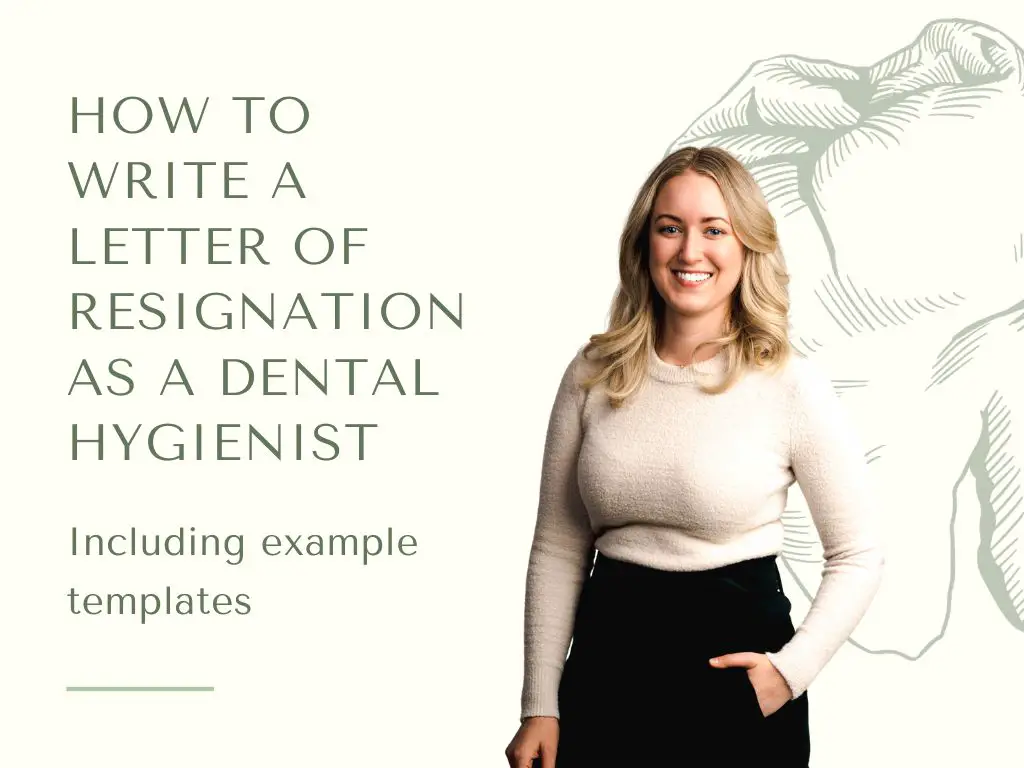 Writing a resignation letter can be an emotional task, and sometimes, it is hard to know where to start. As a dental hygienist who has written and helped others write resignation letters, there are essential aspects to include.
Writing a resignation letter as a dental hygienist should be concise, professional, and polite. Include your name and contact information, the recipient's name and contact information, your formal statement of resignation and effective last date, the reason for leaving, and a personal antidote.
In this post, I have given you some examples of resignation letter templates where you can fill in your information. I also include some essential pointers and reasons why you must include specific details in your letter.
How to write a letter of resignation as a dental hygienist: 2 templates
Read Now: How Much Notice to Give as a Dental Hygienist? Guide by RDH
1st template of resignation letter for a dental hygienist
[Your Name]
[Your Address]
[City, State, Zip Code]
[Email Address]
[Phone Number]
[Date]
[Recipient Name, e.g., Dr. Jane Smith]
[Dental Practice Name]
[Practice Address]
[City, State, Zip Code]
Dear Dr. [Recipient's Last Name],
I am writing to formally announce my resignation from my position as Dental Hygienist at [Dental Practice Name], effective [Last Working Date, e.g., October 31, 2023].
After much consideration, I have decided to pursue another opportunity that aligns with my long-term career goals.
I am sincerely grateful for the valuable experiences and opportunities I've had working at [Dental Practice Name]. I've learned a great deal and genuinely appreciate the support and guidance you and the team have provided me.
I am committed to ensuring a smooth transition and am happy to assist in training my successor or helping in any other way during my remaining time here.
I wish [Dental Practice Name] continued success, and I hope our paths cross again.
Sincerely,
[Handwritten Signature, if applicable]
[Your Full Name]
2nd template of resignation letter for a dental hygienist
[Your Name]
[Your Address]
[City, State, Zip Code]
[Email Address]
[Phone Number]
[Date]
Dr. [Recipient's Last Name]
[Dental Practice Name]
[Practice Address]
[City, State, Zip Code]
Dear Dr. [Recipient's Last Name],
I hope this letter finds you well. It is with mixed feelings that I submit my resignation as a Dental Hygienist at [Dental Practice Name], effective [Last Working Date, e.g., November 30, 2023].
This decision has not been made lightly. I have had the privilege of working alongside a remarkable team and have cherished the relationships built with colleagues and patients. My time at [Dental Practice Name] has enriched my professional growth and equipped me with skills and experiences that I will carry forward in my career.
However, after careful reflection, I have chosen to accept a position elsewhere that aligns more closely with my personal and professional aspirations. While this decision was difficult, I believe it is the right step for my future.
To ensure a seamless transition, I am more than willing to help onboard and train a successor, provide notes on patient histories, or share insights into ongoing treatments. My objective is to leave with all ongoing tasks or responsibilities adequately addressed, and I'm open to discussing how I can best support this process during my remaining tenure.
I sincerely thank you and the entire team at [Dental Practice Name]. The camaraderie, support, and guidance I've received here have been unparalleled. I greatly respect the quality of care our practice provides and am confident it will continue to thrive.
Thank you for the wonderful opportunity to be part of the [Dental Practice Name] family. I wish everyone continued success and growth, and I look forward to the possibility of our paths crossing again in the future.
Warm regards,
[Handwritten Signature, if applicable]
[Your Full Name]
Why including specific information in a resignation letter is important
Read Now: Prevent Burnout as a Dental Hygienist 17 Ways; My Experience
Maintain professionalism
As registered dental hygienists, we uphold a certain standard and represent the healthcare industry. We should always act as professionals, and crafting a well-thought-out and comprehensive resignation letter shows your professionalism.
Approaching your leave with care and respect will always reflect positively on you, even as you exit.
You don't want to give them any reason to fault you.
Clear communication
There should be no room for any ambiguities or misunderstandings regarding your departure. Any confusion will be avoided by clearly outlining your intention to resign with the effective date.
Documentation
A resignation letter's most important aspect is documenting your departure. Thi sis essential for human resource processes, future employment references, and to avoid any possible issues with contractual obligations or clauses.
Gratitude
Being grateful and expressing your appreciation for the opportunities and experiences gained during your time employed will foster goodwill and reinforce your employment's positive aspects.
You always want to feel good if you bump into your former employer or colleagues in the future.
Even if not all your experiences were positive, you are leaving and can leave those bad experiences in the past, and every bad experience teaches us valuable life lessons.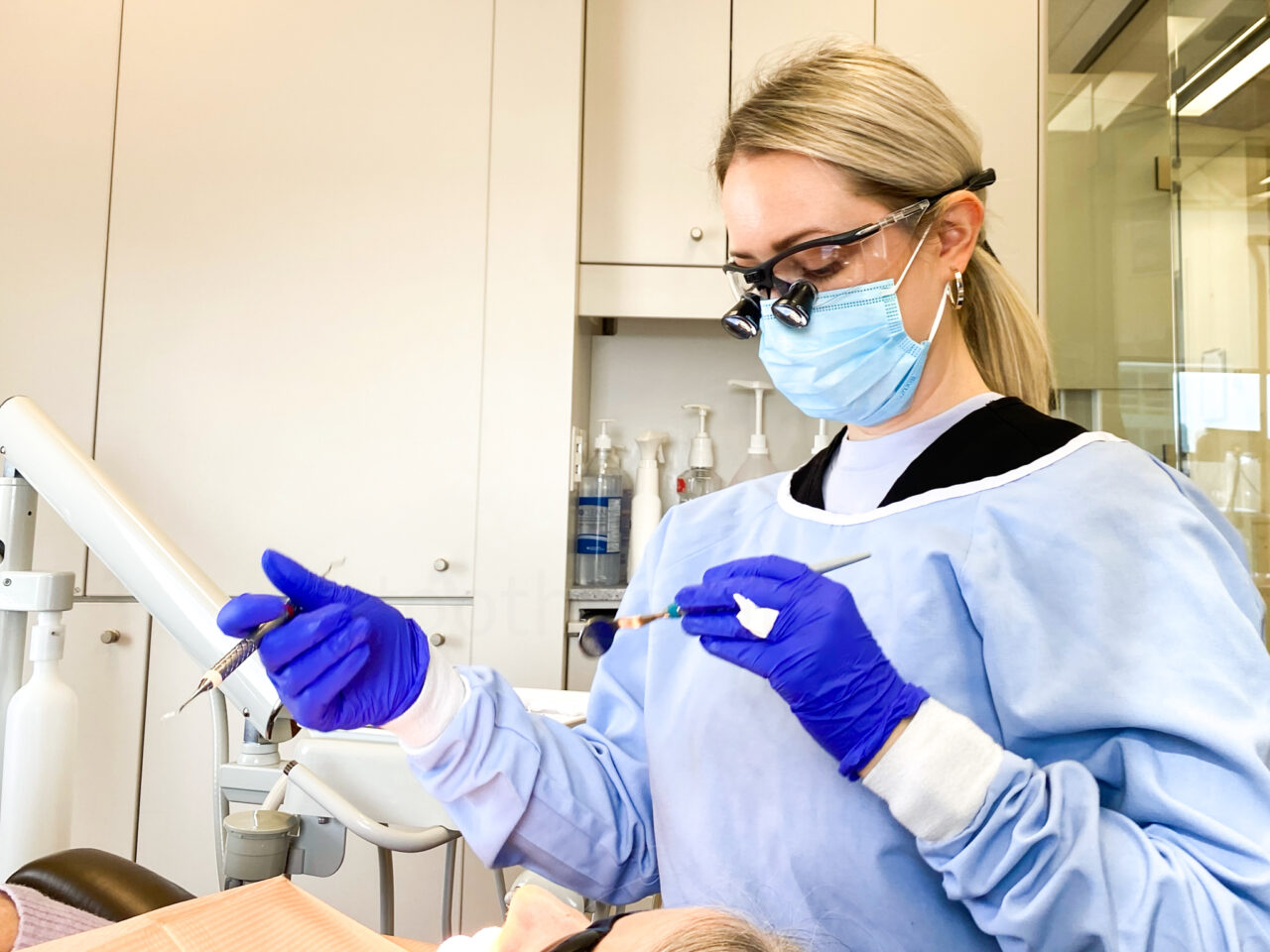 Transition Assistance
When leaving a position, your employer will need to replace you. Offering to assist in this process is courteous and practical.
The most important part of being a dental hygienist is our care and dedication to our patients.
Offering transition assistance eases disruptions to your patient's care and demonstrates your commitment to the well-being of the establishment and its patients.
Closure
A formal letter of resignation is the final puzzle piece to establish closure. It allows you to reflect on your employment journey, articulate your reasons for moving on, and look forward to your future endeavours.
Maintain relationships
We dental professionals all know how small and tight-knit the dental world is. Somebody always knows somebody, and it is human nature that we talk.
A well-crafted resignation letter can help maintain good relationships with former employers and colleagues and benefit future networking.
Read Now: Unbiased: Dental Hygienist's Comparison of Ergo Loupes
For example, The dental office I work at was looking to hire another dental hygienist. One of the candidates came in for a working interview, and I saw her name and previous employment. One of the offices she worked at was the same as where I used to work and where I had many connections still.

I reached out to my old colleagues for honest feedback, and what I heard back was not positive, and we ended up not hiring her.

How you act and conduct yourself while employed, especially when you resign, can significantly impact your future without you knowing it!

---
I hope the information I have included in this post helps you write an outstanding resignation letter!
If you are leaving a job, good luck, and I wish you all the best in your next endeavour.
Holly 🙂